Experience best product usage through real-life demonstrations at Regal's Showroom & Training Center.
Regal's Showroom & Training Center is designed offer our customers a first-hand experience, showcasing our product offerings and capabilities. Since our founding, it has been our goal to educate our customers. In our showroom, you can participate in informative training sessions and product demonstrations so you have the full understanding of correct usage procedures and applications to get the most from the products we provide.  It's our goal to help you better your business for years to come.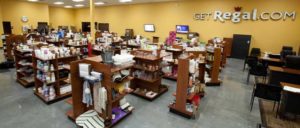 We invite you to visit our Showroom and Training Facility any time, where you will experience product displays and obtain literature from many of our top manufacturers.
The Showroom & Training Center is located at 15325 West 100th Terrace, Lenexa, KS 66219.